Its true. Wearing
mens hair long
isn't for everyone. But the converse is also true. Short hair mens hair isn't for everyone either.
Mens long hair styles
are associated with rebels, artists, and those who live by their own rules. If that's you, check out this
long hair style for men
.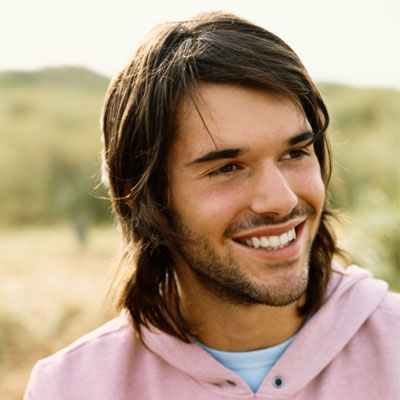 Other than soccer fields and vampire movies, one of the places that men are often seen with longer locks is the surfer scene. Get this
surfer cool
look by growing hair out and then getting a cut to update the look. Worn with designer stubble, the short beard complements the long hair.
One thing rarely mentioned about long hair, despite all the other associations, is that it requires patience. Hair grows an average of 1/2 an inch a month, for a total of 6″ a year. To get the long surfer hair above would take over a year of growth starting from short hair.
To keep mens long hair healthy and looking great, add a conditioner to your shower routine and try not to shampoo everyday (once or twice a week is enough) – it is unnecessary and dries hair out. For a fresh masculine scent try American Crew Citrus Mint, Bed Head Men Peppermint, or Aveda Men Pure-Formance.
A lot of mens hair products are focused on super clean, 2-in-1, and anti-dandruff. These are not the best products for men with long hair so don't pick them up just because it says "men" on the label.
If dandruff does occur (it happens to everyone sometime), look for products that contain tea tree oil that will help with dry scalp but are gentle enough for every day like Wen by Chaz Dean Tea Tree or Paul Mitchell Tea Tree.