You've got the long bangs, angled cuts, and spiky layers. Now take your emo hair to the next level by adding color.
Here's how to get emo hair for guys by adding color:
1.
Dye It Black
This is the official color of emo, punk, or any rebellion. It looks best if you already have darker hair but will be shocking if you have light hair (
but looks best with dark eyebrows
).
There are lots of shades of black to choose from. For a bluish tint, try Garnier Blue Black, add purple undertones with L'Oreal Feria Violet Soft Black, or try for L'Oreal Feria Black Leather for shiny and jet black hair.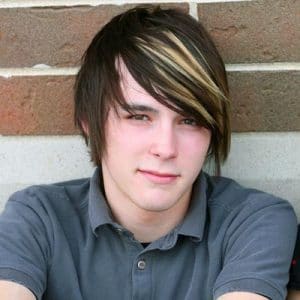 2.
Bleach It
If the dark side isn't for you, lighten things up. Bleach is damaging for hair only commit to platinum for your whole head if you're willing to cut it short later.
Or as above, add a cool contrasting streak in the bangs. An easy to use product for streaks is Manic Panic Flash Lightning Bleach. This will look even cooler with spiked up hairstyles.
Pick any color you like and go for it. To get the look, you'll have to bleach hair first and then add a dye. Manic Panic offers colors like Purple Haze to Vampire Red to Bad Boy Blue and you can get Spring Green, Flamingo Pink, Bright Yellow from Punky Color.
To keep hair bright as long as possible, skip the shampoo.
For guys, stick with one color at a time. You don't want to look like a cartoon character and the color doesn't last very long so you can change it up next week or next month.