Mens long hairstyles
are one of the signature rebellious looks. Wearing hair long, as seen on Johnny Depp, Jared Leto (as 90s heart throb Jordan Catalano and now), and Alexander Skarsgård, the message is one of individuality and non-conformity.
Here are the 5 tips to get the best mens long hair.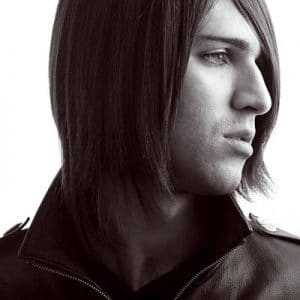 1.
It's a Hairstyle
– Mens long hair isn't about waiting too long between haircuts but committing to a medium or long hairstyle. As seen above, hair is almost uniformly chin length. There are no shaggy bangs or overgrown hair at the neck.
2.
The Part
– For a more sophisticated take on mens long hairstyles, part hair to one side. The "butt cut" is flattering as an exception, not the rule.
3.
The Wash
– Longer hair will reveal exactly how you're treating it so treat it right. For most people, the daily shampoo is too much – it dries out hair and can cause breakage.
Unless your hair looks greasy without the daily wash, start skipping a day of shampoo and extending that until its every 4 day or even once a week (supposedly Robert Pattinson only washes every 6 weeks). This is especially important for curly hair.
4.
Conditioner
- If you don't already, it's time to add conditioner to your shower routine (this step can replace shampoo on most days). You can choose conditioner for your hair type and/or the sensory experience.
Some of the best and best smelling conditioners for men are American Crew Tea Tree Conditioner, Redken Mens Cool Finish Conditioner, and Woody's Quality Grooming Daily Conditioner.
5.
Product
– With longer hair, you're going to need product – no matter what your hair type (fine, straight, wavy, thick, curly). The extra length is an asset for curly or wavy hair, just add something like Kevin Murphy Easy Rider 5 Best Tips for Mens Long Hairstyles to minimize unwanted frizz and bring out natural curl.
Straight and fine hair, like the image above, use something light like Sebastian Potion No. 9 Light Styler Treatment tame fly aways. For thicker hair or to style slicked back hair, try a pomade such as D:fi D:struct Pliable Molding Creme.