Long curly hair men
has a long history of awesomeness – Slash, Lenny Kravitz and Russel Brand to name a few. Here's what you need to know about to grow your
curly hair
long.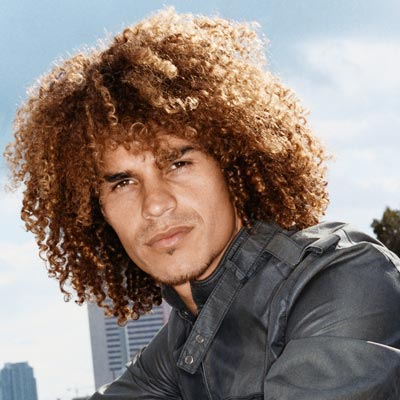 If you're starting out from a buzz cut, face it now that there's going to be an awkward phase. It's unavoidable, temporary and totally worth it.
The
rules for healthy curly hair
are at the same at every length:
Only shampoo once a week.

Condition every day
Use a leave in conditioner or curl specific product to add definition and reduce frizz
Don't rub hair dry – blot it (and an old t-shirt or microfiber cloth are more absorbent and gentler on hair)
Comb hair gently, when wet and with a wide tooth comb
The second most important thing about maintaining an enviable head of curly hair is a
great haircut
. Visit a barber or stylist who's experienced with your hair type and will cut hair so is easy to maintain and forms a flattering profile. Once you get that cut, you can
maintain it yourself
.
Last, as with all men's hair, the products you use are essential. Don't dry out and damage hair with the cheapest drugstore options. Here are some of the
best products for curly hair men
:
Aveda Be Curly Unisex Conditioner
Curly Sexy Hair Unisex Curling Creme
And the best but far from the cheapest – Kerastase Oleo-curl