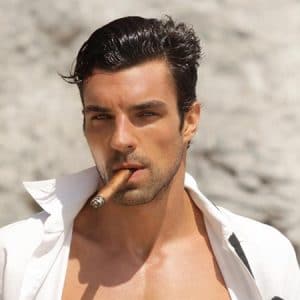 Slicked back hair is everywhere right now – from Don Draper to Ryan Gosling and as always, George Clooney. Get the super star look at home with this easy slick hair how to. Start by parting freshly washed hair deeply to one side and combing it the way you want it to fall. You can let hair air dry or use a blow dryer to speed things up. Don't be afraid to borrow the nearest blow dryer, they're not gender specific!
Next comes the hair product – choose one that suits the thickness and texture of your hair. For fine hair, a gel may do the trick while a pomade will be required for thicker hair. For extra coarse or Asian hair, try a strong hold wax. Rub a small amount of the product between hands (better to start with too little and add more than use too much) and lightly coat strands. Then use fingers or a comb to work hair into place.
A look that works for everyone is lots of height at the forehead, tapering down towards the back of the head. Make sure to keep the sides tight – not necessary if you're rocking the undercut. James Bond didn't spend time checking hair and neither should you. Finish with a touch of hair spray or shine serum to keep hair in place all day and night. Again, no need to buy more product if you have access to feminine supplies, just make sure there any products you borrow don't have a noticeable aroma. Now you're ready to take on the world.