Cool is looking like you spent time on your hair without spending much time on your hair. For thick hair, this means getting a great haircut to work with.
Then you can get all the
cool hairstyles for guys with thick hair
. Here are
3 ways to wear your thick hair for men
: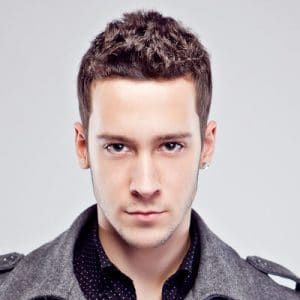 1. As above, wear hair perfectly textured and a little bit spiked. To get this clean cut – bad boy look, use a matte product that's strong enough for thick hair like Stephen Knoll Clay Wax.
2. Another way to wear thick hair is full on spikes. Have some fun with it by working hair into a faux hawk, pulling the front up into a quiff, or getting as much height as you can.
3. Messy! With the right haircut for thick hair, you'll look great with tousled bed head (
especially with some wave in hair
).
There's no need to style hair every day. In fact, the weekends can be a great time to wash out any product buildup with Neutrogena Anti-Residue Formula.