When wearing a tuxedo, there are only a few ways to add your unique style and personality. Of course there's the bow tie and shoes or your choice of facial hair. But most obviously there's your hair. Keep reading to get some ideas for mens formal hairstyles and tuxedo hair.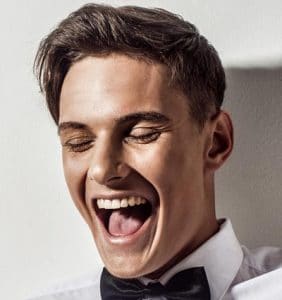 When attending a black tie event, hair should be newly trimmed for a freshly groomed appearance. Short hair should be cut to above where the tux collar hits the neck – hair that touches the collar will look sloppy. (Note – if it's sunny where you live, make sure to apply sunscreen to the back of the neck. Otherwise, freshly trimmed hair will reveal pale skin below).
Tuxedo hair is a great opportunity to add lots of shine to hair – like Clark Gable or even Clark Kent. For high shine and minimal hold try Redken for Men Shine Form Defining Wax
or Joico Ice Spiker Styling Glue
for strong hold and high shine.
If you don't want to go for the James Bond look in your tux with slick retro hair, you can add a modern twist. Style hair up and over, into a rhino-inspired quiff, or add spikes!